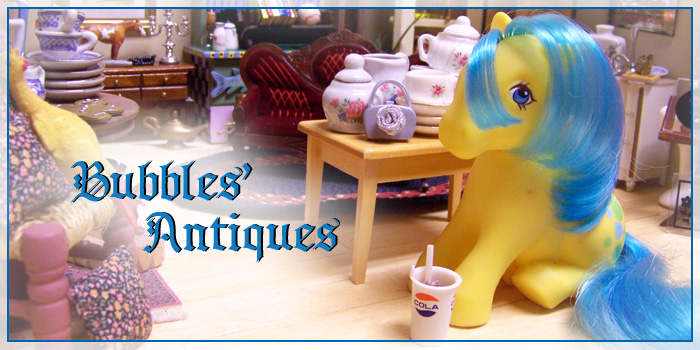 ---
Bubbles, owner and manager of Bubbles' Antiques, has always had a love for vintage furniture, knickknacks, and curios; she's been collecting them for as long as she can remember. Now that she's opened her own business, she finally has a place to share her passion with the rest of Ponyland.

It's no surprise that the ponies love the antique shop: Bubbles has something for everyone. Here she is wrapping up Bright Bouquet's latest purchase: a set of history books for his classroom.
| | |
| --- | --- |
| At Bubbles' Antiques, you'll find everything from the quaint to the bizarre: from old oil paintings to tiffany lamps, to china tea sets, to... Well, to porcelain ducks and unlikely brass lobsters, as Dancer has just discovered. | |
| | |
| --- | --- |
| | Here's Mimic trying on an old-fashioned ladies' hat. A perfect fit! |
Much of the merchandise at Bubbles' Antiques -- old milk jars, chipped pottery, and painted statuettes -- has little practical value. But ponies love looking at it all the same, and some of the most unexpected items make wonderful home accessories.

Love Melody is thinking of redecorating her living room. To her, these old milk jars hold a strange allure.
For ponies of a less fanciful bent, there's plenty of useful furniture and appliances, too. Desks, lamps, dressers, tables, armchairs, and sofas -- Bubbles has it all.

Even the baby ponies can find beautiful child-size furnishings for their bedrooms. This little velvet couch is just the right size for Moondreamer.
| | |
| --- | --- |
| Merriweather's found a collection of old handbooks. The pages are rather yellowed, but Merriweather doesn't mind. | |
| | |
| --- | --- |
| | Today, Confetti is taking home a set of Mother Goose dishware. She'll be back with her next paycheck for those porcelain goslings! |
| | |
| --- | --- |
| There's so much to see at Bubbles' Antiques, it's easy to get lost. Poor Tex is having a hard time finding his wife in all the clutter, but there are plenty of oddities to keep him entertained while he waits for her to finish shopping. | |
| | |
| --- | --- |
| | At the end of the day, Bubbles' employees are often a little bit sad to go home, leaving all the wonders of the antique shop behind. But they'll be open for business again tomorrow -- and who can tell what new treasures Bubbles will have brought in for display! |
---
PHOTO ALBUM
Buttercup goes shopping for frames.

Baby Bluebelle loves Colonial antiques.

Even Sweet Sundrop, Queen of Ponyland, pays a visit.

Sugarberry loves the wood furniture.

Mary stops by with her co-worker Fizzy.

Glory and her daughter take a tour.

Sunblossom is hoping to find a violin.

Peachy inspects some brass elephants.

Scottie finds an old guitar. Looks like it needs restringing.

Tiffany selects a white marble dresser.
---
MEET THE STAFF
Bubbles, owner and manager.

Buttons, clerk.

Minty, clerk.

Flutterbye, assistant manager.

Tootsie, clerk.

Floater, part-time moving service.
---
Meet the Ponies
Ponyland Shops
Events & Memories
Press Articles
---