Welcome to Ponyland Press, a vintage My Little Pony collector's guide!
Here you'll find pictures and information on hundreds of My Little Ponies, plus other MLP merchandise, books, puzzles, games, acessories, care information, and more. We even have a special section for our own town of My Little Ponies!
If you're new to MLP, check out the FAQ for a quick guide to the basics. Thanks for stopping in. We hope you enjoy your stay!
- - - - - - - - - - - - - - - - -

Latest updates: We've got new photos posted in the Town section of the site --
The Ponyland Temple!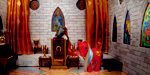 We've also added a bunch of "behind the scenes" photos and collection shots on our new
Ponyland Press Facebook page:

"Like" us on Facebook to see updates and announcements whenever we post them!