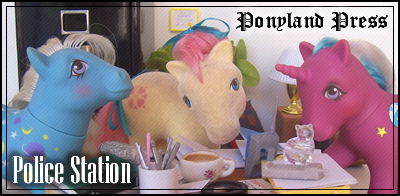 Welcome to the Police Station! Here we keep the records of all our transactions with other pony fans on the web, so you can check up on on buyers, sellers, and traders. Also, be sure to read our tips how to avoid being scammed in the pony community online -- you'd be surprised how many people will try to cheat you. It's a good thing Sundance and her team are here to keep Ponyland safe!

Feedback for Ponyland Press | Our Transaction Records | Tips to Avoid Getting Scammed
Transaction Records
Thinking of buying something from our site? You can check out the feedback other pony community members have left for us in the following places:

If you've traded with us, recently or in the past, please leave us feedback at one of the above locations! Or, if you don't have an Arena or Trading Post account, you can leave a comment at our LiveJournal feedback page. Thanks!
Transaction Records
Buyer/Seller/Trader
Rating
Transaction Details
misskalloway
(LiveJournal)
Excellent!
We bought a set of thirty pony back cards from misskalloway in September, 2010. They arrived in beautiful condition, and the shipping was extremely fast.
Gordon Gault
Great!
We sold a bushwoolie and damsel hat to Gordon Gault in January, 2010. Everything went very smoothly. Great buyer.
Prixton
(MLP Arena)
Great!
We bought a bunch of pony merchandise from Prixton, and everything arrived in great condition.
Boogle
(MLPTP)
Great!
Traded a booshwoolie and princess for a bunch of Petite Ponies. The petites arrived right away. Thanks!
collector1
(MLP Arena)
Great!
We sold two mint-in-package ponies to collector1, and she paid through PayPal immediately and left feedback for us at the Arena.
Derfyslove
(MLP Arena)
Great!
We bought three ponies from Derfyslove, and they all arrived quickly and just as described.
twinkle_eyed
(MLP Arena)
Great!
We bought two ponies from twinkle_eyed at the MLP Arena, and they arrived quickly and in lovely condition.
Loa
(MLP Arena)
Excellent!
We bought the three Bedtime Newborns from Loa. Shipping was fast, and the ponies are absolutely beautiful.
Corpsey
aka corpse_kitten
Great!
We traded for three play-condition ponies from Corpsey. The transaction was very fast, and the ponies all arrived quickly and just as described.
Anna Sjöberg
aka eferia_82
Excellent!
We traded an MIP Baby Racer for two of Anna's ponies. The transaction was very easy and the ponies arrived in almost mint condition. Wonderful trade.
Clème Bonnin
Great!
We made a pony trade with Clème for Tootsie, Baby Pictures, and UK Snowflake. Working out the details took a little while, but everything went smoothly, and the ponies arrived on time and in great condition.
Baby Blue Ribbon
(MLP Arena)
Excellent!
In 2008, we bought a large number of pony pamphlets from Baby Blue Ribbon. Another great transaction.
Wildflower
(MLP Arena)
Great!
We sold Tex with his hat to Wildflower at the MLP Arena. She paid promptly through PayPal and left us great feedback.
Sugarminty
(MLP Arena)
Great!
We traded a box of MIP Petites for two rare petites, plus the cost of shipping. Sugarminty was wonderful about the trade, and left us nice feedback right away.
Baby Blue Ribbon
(MLP Arena)
Excellent!
We bought Hopscotch from Baby Blue Ribbon in 2006. The transaction was easy and the pony arrived quickly and in beautiful condition.
Nora
Excellent!
We bought reproduced Flutter wings from Nora in 2004. The transaction was extremely easy, and the wings arrived quickly, very nicely packaged, and they are absolutely beautiful.
Strawberry Fair
(MLPTP)
Great!
We bought a Baby Blossom from Strawberry Fair. The transaction was easy and the pony arrived quickly. The only problem was the packaging; she was wrapped in newspaper, and some of the print had come off onto her body. Fortunately, it washed off with soap, so Baby Blossom looks as good as new.
Ferferner
(eBay)
Great!
We bought a Baby Waddles from Ferferner on eBay. The transaction was easy and Waddles is in excellent condition, just as described. Shipping was a bit slow, however.
Bubblecup
(MLPTP)
Great!
We traded a Shoreline pony in exchange for a number of digital pony-photos from Bubblecup for the website. She took the time and sent us a lot of lovely photographs.
Greatponies
(eBay)
Great!
We bought several ponies from Greatponies on eBay in 2004. The transaction was easy, and the ponies all arrived promptly, nicely packaged, and just as described.
*-*pony*mom*-*
aka The Pony Mom
(eBay)
Great!
We bought an Argentinean Baby Bluebelle from *-*pony*mom*-* on eBay. She arrived quickly, nicely packaged, and just as described.
Gingerbreadsnowyowl
(eBay)
Great!
We sold a G2 mail-order pony to Gingerbreadsnowyowl on eBay. She payed promptly, stayed in contact throughout the transaction, and left wonderful positive feedback for us.
Tips to Avoid Getting Scammed
Ask for references.
Before you agree to a sale or trade, find out a little about the trader's history. The more references she/he can provide, the better. Try to make sure that the references are valid by contacting them or visiting their webpages.
Never send cash.
Paypal is probably the safest way to send money online, because there is a record of the sale, and the money can be refunded in case of a scam. Cash often gets "lost" in the mail. Money orders are a bit better than cash, but when possible, it's best to use Paypal or send a personal check, even if you have to wait for the check to clear. Remember, it's just as dangerous to accept cash payments -- if the money never arrives, you have no way to prove it.
If it sounds too good to be true, it probably is.
Rapunzel for $100? Tux n' Tails for $20? Don't believe it! Also watch for sellers with "multiples" of the same item. They may actually be "selling" the same pony over and over again.
Request photos.
Don't ever buy expensive ponies without seeing pictures first. Also, keep in mind that a scammer may send you photos that were taken by someone else. A quick Google Image search may help you identify photos that were stolen from websites or online auctions.
Communicate clearly.
Make sure you give and receive thorough descriptions of ponies for sale or trade. If you want a pony in "mint condition," make sure the seller understands exactly what "mint" means to you. Some sellers will call a pony with minor body marks "mint." By the same token, if you are selling a pony with any flaws, make sure the buyer knows what these flaws are, however small. It will save you trouble and possible bad feedback in the long run.
Save your emails.

Always keep a record of your emails to and from the seller until the transaction is complete. If the pony you receive is not in the condition described or was not mailed on the date agreed upon, you'll need a record of your correspondence with the seller to prove it.
Don't let them rush you.

Scammers will usually rush a sale, trying to get your money as quickly as possible. Don't be afraid to take your time, ask questions, and check the seller's references before you send the money.
Watch for suspicious behavior.
During a certain raffle on the MLPTP boards, the raffler kept postponing the drawing of winners. Baby Bloodflower decided to keep track of everyone who had entered the drawing. When the winners were finally announced, Baby Bloodflower observed that the grand-prize went to a brand-new member who had only ever made one post to the boards. The MLPTP's moderator tracked the two IP addresses and confirmed that the "winner" was the same person as the raffler. Remember, it never hurts to be cautious.
Ask trick questions.
A buyer on the MLPTP once reported receiving an amazingly cheap offer for the pony Sweet Scoops. She asked whether it was the purple version or the white version. The scammer said it was the white version. Of course, there is no white version of Sweet Scoops. Scammers are often rather stupid -- take advantage of this!
Another example: before buying a "mint-condition Galaxy" online, a suspicious buyer asked, "how much will shipping cost for Baby Galaxy?" The seller replied with the price, as though she had been selling Baby Galaxy all along. Scam!
Use their greed against them.

If you think you're being scammed after you've agreed to purchase a pony, try contacting the seller from a different email address with an offer to buy the same pony. An honest seller will, of course, tell you the pony is already sold. If the seller accepts the offer -- it's a scam!
Talk to the community.

Always post the results of your transactions, whether positive or negative, on your own website or on a message board like the MLPTP. Keep track of good and bad sellers, and if you do get scammed, report the scammer so that others will know to avoid her/him. Help Sundance, Night Glider, and Beach Ball keep the pony community scam-free.
---