Baby Princess Sparkle
*Photo by Ponyland Press*
Baby Princess Sparkle is a white baby earth pony with blue eyes. Her hair is light pink with blue, pink, and gold metallic tinsel. Her symbol is a glittery gold and purple castle on a cloud, and she has a glittery gold star on her forehead (view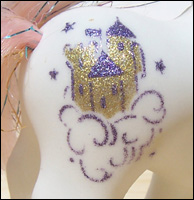 ). She is in the Baby Blossom Pose. Apart from the four babies from the original Year 3 Baby Ponies set, Baby Princess Sparkle was the only baby pony printed with a glittery symbol; she was also the only US baby pony to have tinsel in her hair.
Baby Princess Sparkle came with the Princess Baby Buggy -- a dark pink buggy made in the same mold as the original white buggy released in Year 3 with Baby Cuddles. The Princess Buggy has a translucent, glittery dark pink umbrella and translucent, glittery dark pink wheels, and there is white and silver lace trim around the edges of the buggy and umbrella. The hubs of the wheels are translucent purple purple flowers, and on top of the umbrella a dark pink metallic ribbon is tied. The handle is white with pink flowers on the sides, and can be adjusted so that ponies of different heights can push the buggy.
Baby Princess Sparkle also came with a pink felt blanket, an aqua dish, a pink spoon, an aqua training cup, a pink shooting star barrette, a dark purple duck comb, and a white and silver lace ribbon.