Fifi
*Photo by Ponyland Press*
Fifi is a white adult Twice as Fancy earth pony with blue hair and blue eyes. Her symbol is a pattern of light pink bows (view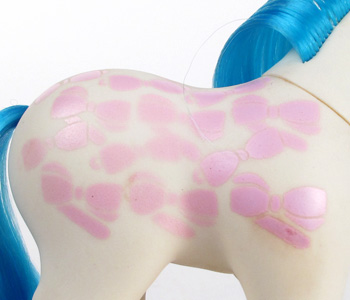 ). On her right cheek she has a smaller bow (view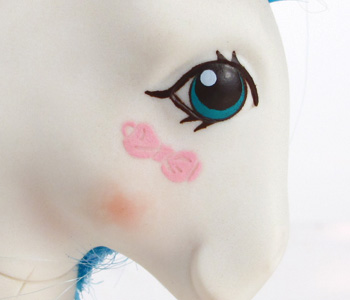 ). She is in the Crumpet Pose.
Fifi came with the Perm Shoppe -- a large, yellow hair salon shaped like a vanity table, with a pink door and pink windows with combs for shutters, white lace trim attached with pink plastic bows, and a pale pink mirror on the top. The Perm Shoppe's accessories were a working shower pump, a sink, a chair, a vanity, a towel bar and two towels, a counter, a shelf, a cash register, a cart with wheels and a removable tray, a ribbon rack, and a bottle of "Fifi's Fashion Foam" hair spray.
Smaller accessories included a pink smock and pink mesh cap; three large and three small purple curlers; an eyeshadow compact with two wands and blue, pink, and green eyeshadow; two bow barrettes; two flower barrettes; two purple ribbons; two orange ribbons; a flower brush; and a basic comb.
In the UK, the Perm Shoppe was called the Crimp n' Curl Hair Salon. It was re-released in Year 6, unaltered.